Evaluation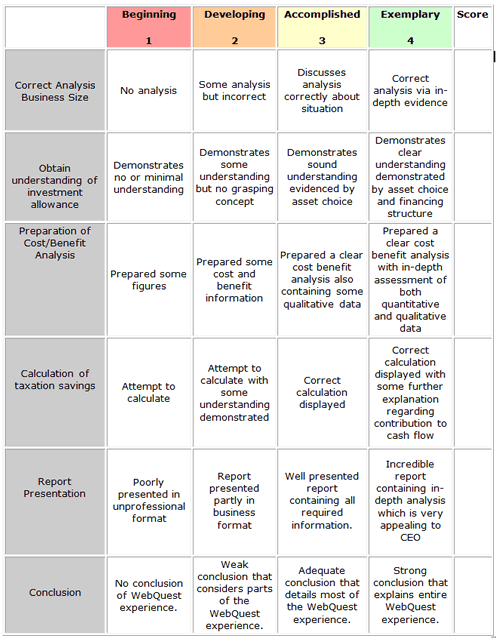 Teacher's notes
This webquest was designed to meet assessment criteria for an e-learning course offered at CQ University. I would like to sincerely thank Mr Scot Aldred for his assistance and take this opportunity to thank him for introducing me to a new world of learning. I do believe that with more time I could make this webquest into something grate and feel that they are an invaluable learning tool.
This webquest was designed for business organisations, primarily in-house accountants that want to assist in their organisations taxation planning.
The Task
This requires the students to form tax planning teams to assess their organisation's eligibility for the investment allowance. The tasks assumes very little taxation law knowledge but does expect some accounting/financial knowledge. The task requires each member to provide their individual expertise in a team environment, to co-operate and achieve the goal.
The Process
Here each team member is to provide the relevant information from their role description to assist in the decision making process. This part requires research and analysis of the organisation's structure, financial position and strategic direction in order to decide on future requirements. An ability to interpret legislation and maintain an analytical mind are important.
Evaluation
A six point evaluation is included to assist the evaluator in assessing the outcome of each team. This evaluation should be used as a guide only.
Resources
Links to the required information material are listed on the resources page.
Duration
The duration of this webquest should be no longer than one week. It is important that a consistent thinking pattern immersive and be developed to achieve the required goals.